Invited guest speaker and held a seminar
Page Info.
Writer :

관리자

Date : 22-01-20 11:30
Hit : 439
본문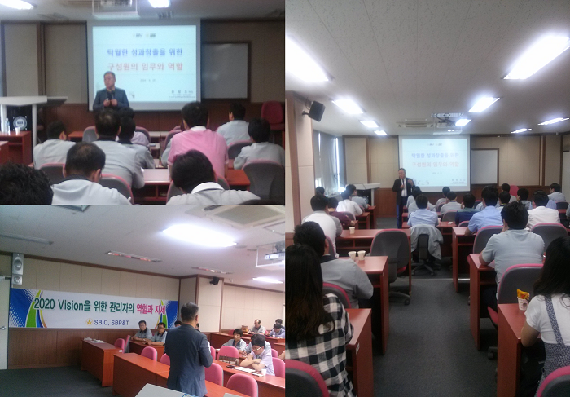 SBIC and SBP&T held a guest speaker seminar at June 17 in Hanyang Univ. guest house #411 with 46 manager positions of SBP&T, and June 18 at the same place it's held a guest speaker seminar with 29 team leader positions of SBIC and SBP&T. And also 45 of lower than manager position workers were joined a guest speaker seminar at Chung-un Univ. auditorium #114.
The performance Co., Ltd. Ryu, Rang-do guest speaker led a seminar with the title of "Successfully completing each workers roll to achieve optimal results". The lecture was two hours long and divided by two groups; one for upper than team leaders and the other one for lower than managers.
SBIC and SBP&T are aiming to keep supporting their workers to build an expert in their positions.
To build an expert worker SBIC and SBP&T are going to support their workers to have these professional lecture programs.